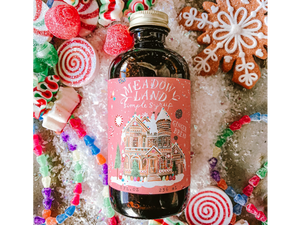 This Oregon-made, handcrafted simple syrup gives a nostalgic flavor to any whiskey drink! Add it to your latte, tea, or baked goods too!  
Tasting Notes: golden gingerbread fresh from the oven, anticipation, coziness.
Ingredients: golden brown sugar, water, molasses, ginger, star anise, cinnamon, nutmeg, black pepper, cream of tartar.
236 ml (8 FL. OZ) of magical goodness!
Locally harvested and organic ingredients whenever possible. Non-GMO, no artificial colors. ​
Once opened, keep refrigerated for optimum freshness. ​