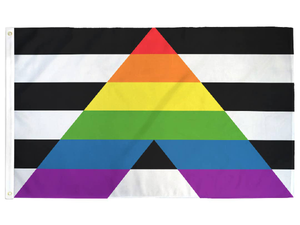 3' x 5' Ally flag with grommets and double stitched edges to reduce fraying.
The Ally flag was designed sometime in the 2000s but the origin is unknown. The "A" stands for Ally with the rainbow symbolizing the LGBTQ+ Community and the black and white symbolizing heterosexual and/or cisgender people.
Flags are durable 200D polyester
Flag printed as a one-sided print, back has ample (around 90%) bleed-through.
Each flag is folded by hand and ready to be used on a flag pole, boat, hung on a wall, or to proudly march with.