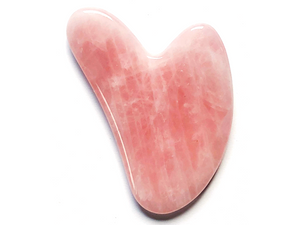 Looking to elevate your self-care routine? These facial massage tools have been used in Chinese beauty rituals since ancient times and are the perfect addition to help increase circulation, release muscle tension, smooth fine lines and wrinkles, decrease inflammation, and help deeper absorption of products into the skin.
Energy Profile of Rose Quartz: Reawakens the heart to the abundance of the Universe. Creates an environment of love and harmony.
To Use Gua Sha (pronounced guah-sha): Apply your favorite serum or moisturizer to clean skin, using broad side of the plate gently scrape skin in an upward motion. Use tapered end to gently sculpt and contour the face. Recommended to use at night to relax facial tension, increase blood circulation and collagen production. Rinse with warm water and mild soap in between use. Due to natural stone formation, each tool will be unique in color.