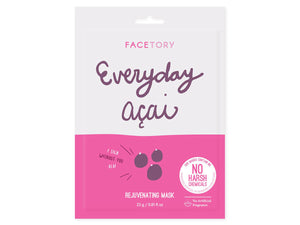 Everyday Acai is a rejuvenating mask that doesn't contain harsh chemicals or artificial fragrances. Replenish your skin with moisture and hydration!
Key Ingredient Acai Extract- This ingredient is packed with antioxidants! It will aid in protecting your skin from environmental pollutants while ensuring your skin is hydrated and moisturized.

FaceTory says no to animal cruelty, harsh chemicals, and artificial fragrance.