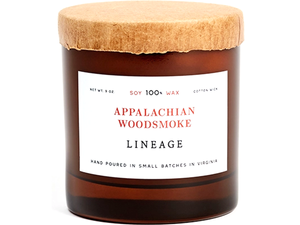 Oak, pine, amber, fir, and even cedar - just some of the notes that mark the unmistakable fragrance of a campfire. There is nothing that soothes and warms on a fall or winter night like the smoky notes of the Appalachian Woodsmoke candle. If there's one candle able to ignite some fond memories, this is it.
9 oz.
Candle made with 100% us sourced and made soy wax.
Reusable amber-colored low ball glass with kraft paper lid.
50 hour approximate burn time.