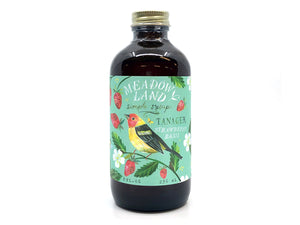 This Oregon-made, handcrafted simple syrup is a delightful addition to lemonade or a vodka cocktail. This blend was inspired by summer gardens, climbing fences, and falling asleep in fresh-cut grass :)
Tasting Notes: a first summer strawberry, a warm breeze and fresh basil.
Ingredients: pure cane sugar, water, Oregon strawberries, fresh basil, cream of tartar
236 ml (8 FL. OZ) of magical goodness! 
We use locally harvested and organic ingredients whenever possible.
Non-GMO, no artificial colors.
​Once opened, keep refrigerated for optimum freshness. ​