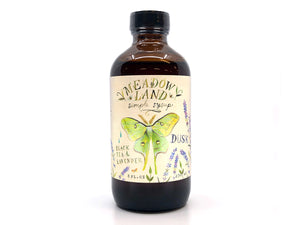 Oregon-made, handcrafted simple syrup to sweeten your lemonade, iced tea, or cocktail! This blend was inspired by magical summer evenings spent watching the sunset and resting from a long day.
Tasting Notes: lavender flowers, purple skies, rich black tea, warm summer evenings, mystery
Ingredients: pure cane sugar, water, black tea, lavender flowers, cream of tartar
8 oz
Meadowland Simple Syrup uses locally harvested and organic ingredients whenever possible
Non-GMO, no artificial colors
​Once opened keep refrigerated for optimum freshness.